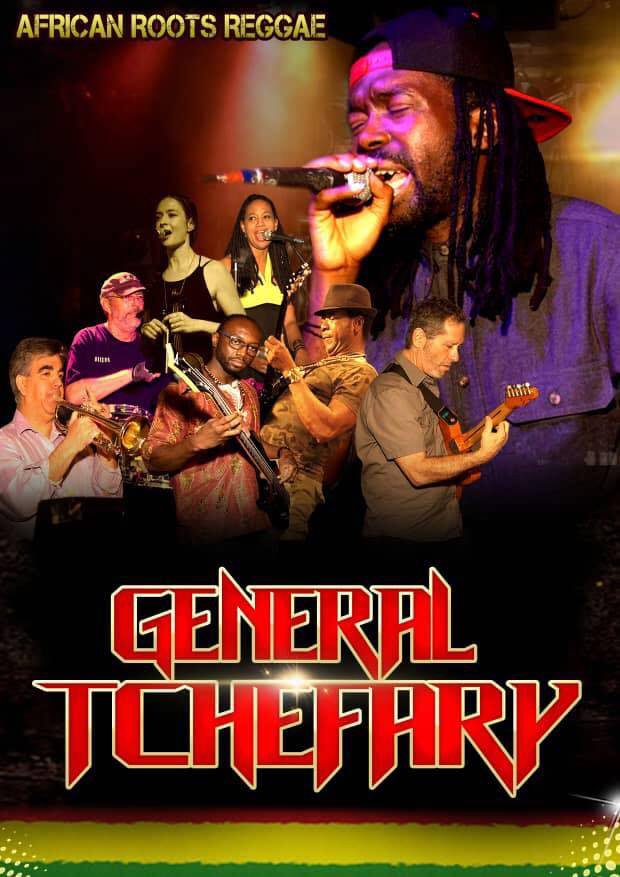 Saturday, Nov 10, 2018 @ 7:30 PM
| Type of Ticket | Day of Show Price | Advance Price |
| --- | --- | --- |
| Regular Ticket Price | $20.00 | $15.00 |
| Teen (12 - 15) | $17.00 | $12.00 |
| Children (11 and under) | $4.00 | $4.00 |
The Beer & Wine Garden will be open before and during this show! Come early to enjoy a local craft beer or glass of wine.
7-piece band. GENERAL TCHEFARY is a descendant of the great proponent of the struggle against French colonialism in Africa "l'Almamy Samory Touré". Growing up with his mother, he never saw his father. Becoming a musician kept him away from the bandits and out of trouble.
Ibrahim Touré, aka General Tchefary, began his musical journey in his home of West Africa, Ivory Coast in the year 1998. As an artist, he started in the hip-hop movement then gradually moved into the Reggae music scene. He chose Reggae music for what it stands for. Reggae music is his life; it gives him the joy of living. It gives him hope to see a better world where people live in harmony without injustice. Because of this way of life, he and Reggae music have become one, as if they were born together.
General Tchefary's music and messages reflect his life's view – "Jah created the world, mankind and the stars in the sky. Jah wants his people to not hurt each other. He wants us to respect nature. Today, man has become a wolf to man. Man is the basis of the suffering of others. Jah is angry and we are all natural disasters happening everywhere in the world. To you who read this text, there is still time for us to realize that we must give love to everything around us. Your fight should be your love. Stop thinking negative thoughts of one another. Share your love without expecting anything in return. My prayers and hopes are that my music can help you better."
Tchefary released his first Album in 2008, "Soya " which gave a marked evolution over Ivorian showbiz and ranking it among the hopes of Africa Reggae people. "Il Est Temps" is the title of the second album in 2013 which exploded on the International scene due to its activist messages of revolution and education.
In 2015 he was invited by K-Bass Music to America to promote African Root Reggae. General Tchefary is multi-dimensional in his art, he sings with Solidarite Sympa, Dub Society, K-Bass Music and General Tchefary bands. He has performed at festivals with famous singers, Alpha Blondy, Ky-Mani Marley, Morga Heritage, Third World, I Threes, Tiken Jah Fakoly and many more.
In 2018, Tchefary appears with many other famous Reggae world singers on a compilation CD recorded in Portugal by Da Lion Music called "I-Ternal Riddim" and he also launched a single CD of two titles "Black No For Sale" and "Help The Syrians" as light soldier songs heralding the soon arrival of the battalion of 13 tracks coming on the third album by the end of the year. This album was recorded in three different studios, DMB Studio in Cote D'ivoire of Africa, Blackstar Studio Portugal in Europe and Waterworks Recording in the United States of America; and is currently being mixed and mastered in Jamaica by Gregoris Morris III.