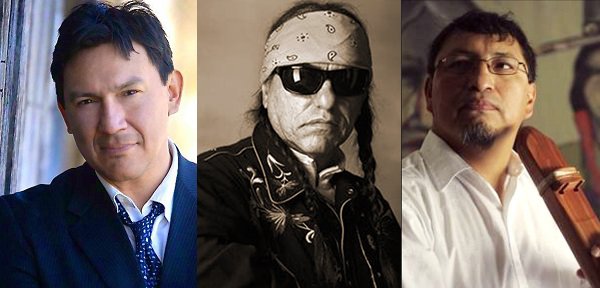 Friday, Nov 22, 2019 @ 7:30 PM
| Type of Ticket | Day of Show Price | Advance Price |
| --- | --- | --- |
| Ages 16 & up | $20 | $15 |
| Ages 15 & under | $12 | $12 |
The Beer & Wine Garden will be open before and during this show! Come early to enjoy a local craft beer or glass of wine.
The Sea Of Glass—Center For The Arts presents the Native Voices Story & Song Tour with Keith Secola, Tonemah, and Randy Kemp – three award-winning Native American artists in the round.
Keith Secola, born in Cook, Minnesota, is affiliated with the Anishinabe tribe and is an icon and ambassador of Native music. Rising from the grassroots of North America, he is a songwriter of the people. Critics have dubbed him as the Native versions of both Neil Young and Bruce Springsteen. NDN Kars (Indian cars), his most popular song is considered the contemporary Native American anthem, achieving legendary status and earning him a well-deserved cult following. It has been the number one requested song on tribal radio since the 1992. In 2011, he joined the ranks of Jimmy Hendrix, Hank Williams, Crystal Gale, and Richie Valens, and was inducted into the Native Music Hall of Fame. He has also performed at the Olympic Games in Atlanta 1996 and Salt Lake City 2002, toured Europe several times, and is a seven-time Native American Music Award winner.
Tonemah is of Kiowa, Comanche and Tuscarora descent. He has 9 CDs under his belt and a well-known hit single "Pow Wow Snag." His songs are filled with thought-provoking metaphors, and are sharp with emotion and humor that make his music easy to relate to. He has won and been nominated numerous times for "Best Folk Recording," "Best Male Artist", and "Songwriter of the Year" by the Native American Music Awards, and for "Best International Artist" by the Aboriginal People's Choice Awards. His CD "Welcome to Your Rainy Day," won the award for "Best Folk Recording, " and was called a Masterpiece by Whispering Wind Magazine.
Randy Kemp (Choctaw/Euchee/Muscogee-Creek) performs with various Native American wooden flutes, single and double chambered made of cedar, mahogany and river cane. He has been nominated for "Best Spoken Word" 10th Annual Native American Music Award (NAMA), "New or Debut Duo / Group of the Year" in the 18th Annual NAMA event, and "Best Instrumental Album" with Indigenous Music Awards of Canada. He also performed prelude flute music for President Barack Obama at Arizona State University in Tempe, Arizona. Other renowned performances include TEDx AshokaU, Arizona SCITECH Festival, Tempe Center for the Arts, Native America Calling, Te korimako Maori Radio Station 94.8FM New Zealand, Kerr Cultural Center, Smithsonian National Museum of the American Indian, and at Korrawinga Community in Australia.