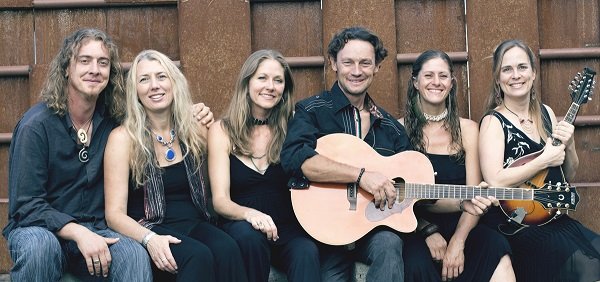 Saturday, Nov 17, 2018 @ 7:30 PM
| Type of Ticket | Day of Show Price | Advance Price |
| --- | --- | --- |
| Regular Ticket Price | $18.00 | $13.00 |
| Teen (12 - 15) | $15.00 | $10.00 |
| Children (11 and under) | $4.00 | $4.00 |
The Beer & Wine Garden will be open before and during this show! Come early to enjoy a local craft beer or glass of wine.
6-piece activist folk-rock band with members from Nashville, Germany, New Zealand and beyond performing a unique blend of original, eclectic music with thought-provoking lyrics written to soothe the heart, inspire the mind, and expand consciousness.
The members of the Starseed Acoustic Ensemble each have unique stories of how they feel "Destiny" called them together from the four corners to create music with intention to change the world - to literally "rock" the boat. As Global Change Music nonprofit record label artists, the Starseed Acoustic Ensemble's mission is to write lyrics and melodies which inspire listeners to feel empowered to take positive action in a world they see in the midst of turmoil and at a pivotal time of global transformation. "We are living at a significant point in history" shares the band's lead singer and songwriter, Keea, "and we feel a responsibility and calling to spread the message of brotherhood and sisterhood through our music…the message of 'one God one planetary family' as TaliasVan says. We're not making music for money or fame; we're trying to make music that will help heal the world and it starts with looking at ourselves and where we need to change."
All of the band members are part of the Spiritualution—Justice To The People Movement founded by master musician and spiritual activist, TaliasVan who is also the founder Global Change Music. TaliasVan encourages artists to write lyrics that speak out against injustice and unite humanity in one global family rhythm and, more importantly, to walk their talk through service to humanity. The Spiritualution is a global movement started almost 30 years ago by TaliasVan to spread the message that world peace can only be attained through a spiritual revolution; that a spiritual solution – a spiritual unity without uniformity – is what is needed to heal the planet's various troubles with war, political and social unrest, famine, disease, environmental devastation and more.
The Starseed Acoustic Ensemble's Global Change Music is expressed in full, rich vocals with background harmonies supported by acoustic guitars, keyboard, bass and drums, layered with banjo, mandolin, steel drum, accordion and percussion. Their lyrics sensitively touch on pressing planetary problems in a cosmic context of hope, striving to build bridges through music for all people to unite.
Their music can be found on Spotify, You Tube, Global Change Music, and heard on KVAN Visionary Radio 91.7FM Tucson.