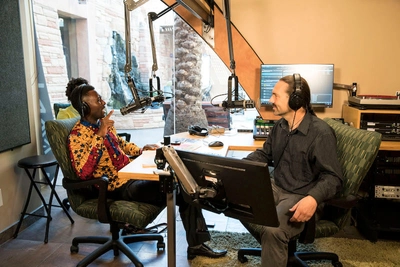 KVAN is Visionary Radio broadcasting from Tucson, Arizona on 91.7 and streaming globally at kvan.fm. KVAN Studios are headquartered at The Sea Of Glass—Center For The Arts, just off of 4th Avenue on 330 E 7th Street.
KVAN's slogan 'Visionary Radio,' means forward-thinking, progressive, and futuristic content. KVAN is committed to broadcasting the highest quality in music and talk radio with a bold, fearless, and visionary attitude.
KVAN seeks to provide quality, alternative programming for the Tucson community, knowing that ultimately their community extends beyond the reach of their terrestrial broadcast signal. KVAN acknowledges the global community at large and upholds their listeners as unique members of one planetary family.
KVAN makes it their mission to provide an outlet for alternative voices of the world, and feels responsible to provide the highest quality programming, featuring conscious music and enlightened conversation. Radio is media's best-kept secret for global change. Because it has the ability, quite literally, to make waves in our world, KVAN feels responsible to broadcast sounds that reflect truth, beauty, goodness, and love.