A Center for Global Change Through Music & the Arts
MODERN - MAGIC - MEZMERIZING
LIVE MUSIC • WEDDINGS • CELEBRATIONS • FILMS • YOGA • WORKSHOPS • CLASSES
Tucson's Premiere Event Rental Venue
The Sea of Glass offers 4 venues for rent which can also be combined as needed.
The Sea Of Glass — Center For The Arts is an oasis in the city with professional staff & elegant ambiance. Whether you're planning a social gathering or corporate meeting, a performing arts center like the Sea Of Glass is the perfect venue. We offer a unique twist on the traditional banquet hall or boardroom that will make your event stand out and be extraordinary and memorable.
For ease and convenience, we have online forms available to apply for rentals and service packages.
★ ★ ★ ★ ★
The Sea Of Glass has world-class live sound. It is a very special and intimate venue with a beautiful energy and vibration coming from both the staff and the space.
~ Guilherme Arantes (King of Brazilian Pop)
Also At the Sea Of Glass — Center for the Arts
KVAN VISIONARY RADIO 91.7 FM
BROADCASTING FROM THE SEA OF GLASS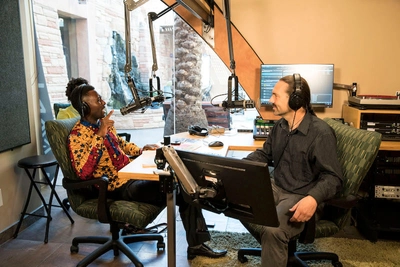 KVAN Visionary Radio broadcasts from Tucson, Arizona on 91.7 FM and streams globally at KVAN.fm and on the KVAN App.
KVAN Studios are headquartered at The Sea Of Glass – Center For The Arts with a complementary vision and mission, as KVAN is all about building spiritual bridges, making spiritual connections, sharing higher consciousness experiences and establishing relationships between the most creative people and communities around the world.
SACRED TREASURES
A Fair Trade & Eclectic Collection of Clothing, Jewelry, Art & Rare Books
Locations in Tucson, AZ & Tubac, AZ | 520.624.4418
Located in the same building as The Sea Of Glass, Sacred Treasures is an eclectic, fair-trade, eco-conscious boutique with a one-of-a-kind selection of jewelry, art, clothing, rare books, and gifts. Our philosophy of respecting both planet and people inspires our unique collection, which blends fine arts and crafts with socially-conscious products as an alternative to corporate consumer goods.
An elegant space perfectly suited for intimate social gatherings. The CosmoArt Studio is ideal for sacred occasions calling for an indoor setting with taste, class, and beauty.
Our studio is an ideal environment for receptions, meetings, workshops, book signings, displaying art portfolios or collected works, and other like events which need a more refined atmosphere of quality.
COMMUNICATIONS COURTYARD
Where people are encouraged to talk to each other
in a sacred environment!
Come in, put down your phone, and get to know someone! Or just take a moment to relax, reflect and enjoy this sacred environment.
This beautiful outdoor oasis offers a scenic courtyard with a water feature and rooftop patio with spectacular views of the Catalina Mountains. The Communications Courtyard can be rented alone or to compliment the other venues.
Programs at The Sea Of Glass — Center for the Arts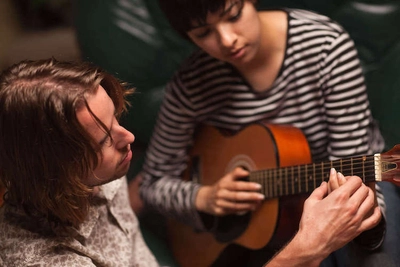 The Sea Of Glass hosts classes, workshops and opportunities to improve your personal health.
For anyone interested in adding to their skill sets, be it for personal interest and hobbies, or vocational and employment advancing, our upcoming class lists are worth checking out.
Follow the links below to browse our workshops and classes. For the more serious spiritual seekers, we also offer courses in Epochal Revelation.
YOUTH AT-RISK ARTS INITIATIVE
The Mission of the Sea of Glass Youth-At-Risk Arts Initiative is to provide vocational training and scholarships for creative and inspiring artistic endeavors for at-risk youth in the greater southern Arizona region.
"The desire to create is one of the deepest yearnings of the human soul."
~ Dieter F. Uchtdorf