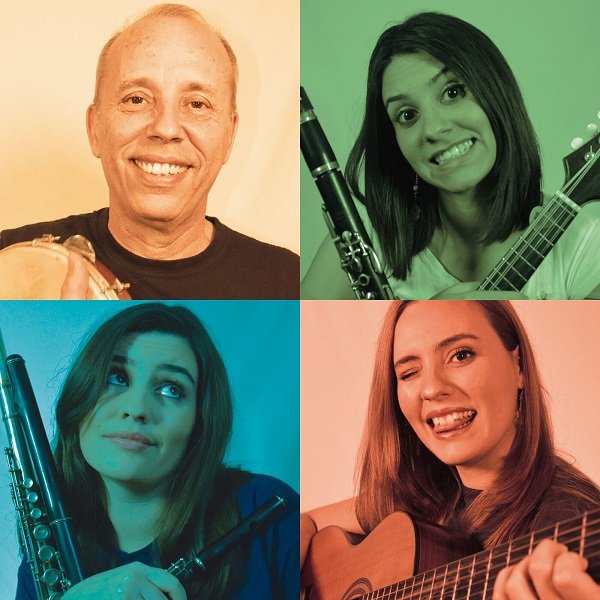 Friday, Aug 09, 2019 @ 7:30 PM
| Type of Ticket | Day of Show Price | Advance Price |
| --- | --- | --- |
| Regular Ticket Price | $20.00 | $15.00 |
| Teen (12 - 15) | $17.00 | $12.00 |
| Children (11 and under) | $4.00 | $4.00 |
The Beer & Wine Garden will be open before and during this show! Come early to enjoy a local craft beer or glass of wine.
Choro das 3 is a family band formed by three sisters and their father - Corina on flute and piccolo; Lia on acoustic 7 string guitar; Elisa on mandolin, clarinet, banjo and piano; and Eduardo on pandeiro (the Brazilian tambourine) - performing Brazilian Instrumental Music with their main style being Choro music, an instrumental music genre that emerged in Brazil in the 19th century.
The band has performed in concerts and workshops all over Brazil, the US, Mexico and France. In Brazil they have played for presidents, governors, ministers and also for huge audiences such as São Paulo's New Year's Eve Party (2 million people) and at Morumbi Stadium (over 70,000 people). They have been on national TV many times, including the Brazilian version of "Letterman." Choro Das 3 has also played and taught workshops in many Festivals and Universities in the US. On each of their USA tours over the last few years they have appeared at Mike Marshall's and David Grisman's Mandolin Symposium. Mike Marshall says Choro das 3 plays ". . . some of the most inspired and inspiring music . . . the highest level of musicianship and presentation . . . the highest quality of Brazilian Choro music that can be heard any place today."