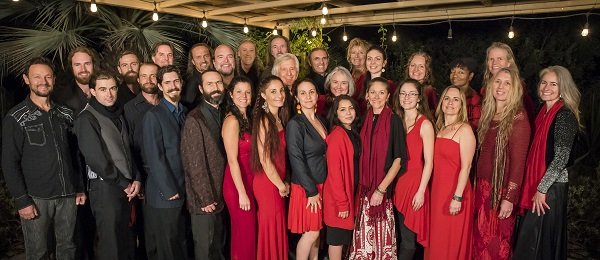 Friday, Dec 20, 2019 @ 6:30 PM
| Type of Ticket | Day of Show Price | Advance Price |
| --- | --- | --- |
| Regular Ticket Price | $20.00 | $15.00 |
| Teen (12 - 15) | $17.00 | $12.00 |
| Children (11 and under) | $4.00 | $4.00 |
The Beer & Wine Garden will be open before and during this show! Come early to enjoy a local craft beer or glass of wine.
The best of traditional holiday cheer meets modern, cosmic and unique perspectives at this special time of year. Bring the family to enjoy two exquisite holiday choirs, a Christmas musical play filled with humor and touching moments, and a visit from 'ol Saint Nick!
Doors open at 6:00pm and performances commence at 6:30pm with TaliasVan's CosmoYouth Choir, followed by TaliasVan's 50-voice Bright & Morning Star Choir & Orchestra. After the CosmoChristmas concert will be a screening of a Christmas musical play called, "The God Child Came" and, to top off the festivities, Santa Claus will be there to share his jolly holiday spirit and gather any last-minute Christmas wishes!
TaliasVan's CosmoYouth Choir bring the sweet sounds of angelic innocence in their harmonies. A professional youth performing and recording group, these talented teens are part of Global Community Communications Schools and on the Global Change Music record label. They are youth with a mission to offer hope and inspiration through song for their vision of world unity and peace.
TaliasVan's Bright & Morning Star Choir & Orchestra is a 50-piece ensemble formed in 1995 by TaliasVan, musician and founder of Global Change Music Nonprofit Record Label. For the holidays, the choir performs both classic traditional pieces and some CosmoChristmas™ originals written by TaliasVan to reflect the divine. The harmonies and arrangements are other-worldly and the sound is dynamic and sacred. The choir has been performing and recording professionally for over two decades.
The God Child Came is a 1-hour Christmas musical play performed by Global Change Theater Company which was professionally shot and edited for DVD at Future Studios in Sedona, Arizona. A touching story about a young woman's search for the true meaning of Christmas, the play takes you on an unforgettable journey featuring a colorful cast of characters who will tickle your funny bone and warm your heart. The play is interwoven with a beautiful, original music score from The God Child Came Christmas album.
Come early and enjoy the Communications Courtyard beer and wine garden for food and refreshments before the show; a beautiful oasis with soothing fountain and a rooftop patio overlooking the Catalina Mountains.