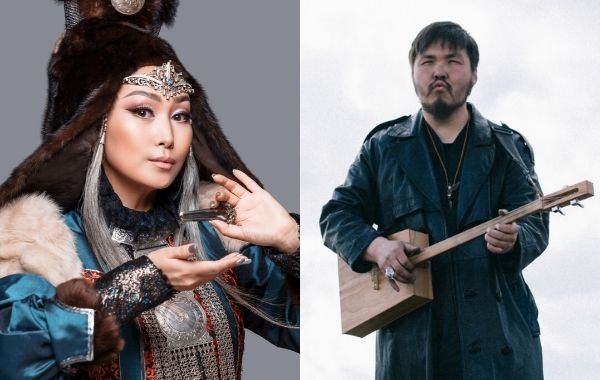 Saturday, Mar 14, 2020 @ 7:30 PM
| Type of Ticket | Day of Show Price | Advance Price |
| --- | --- | --- |
| Regular Ticket Price | $23.00 | $18.00 |
| Teen (12 - 15) | $20.00 | $15.00 |
| Children (11 and under) | $4.00 | $4.00 |
The Beer & Wine Garden will be open before and during this show! Come early to enjoy a local craft beer or glass of wine.
Internationally renowned throat singer, Nachyn Choreve and virtuoso of the khomus, Yuliyana Krivoshapkina will transport you to the vast expanse of Siberia. A throat singing workshop is also offered. Workshop from 2:00pm to 4:00pm and the concert at 7:30pm. Come to either or both!
The unique music of Sounds of Siberia underscores the power of nature and the timeless connections between humanity and the universe. Nachyn's mastery of different styles of throat singing takes listeners to the Taiga and mountain brooks of Tuva in the south of this vast region, while Yuliyana's artistry on the khomus brings the sounds of the birds, reindeer, and winds of the endless tundra of Yakutia to the north. As throat singing emerged out of the Tuvan nomadic lifestyle, the khomus (jaw harp) became a linchpin of Yakutian musical culture and the tool of powerful shamans. When heard together, these two musical styles evoke the grandeur and impermanence of the natural world.
Yuliyana Krivoshapkina is a virtuoso in the art of the khomus, the national instrument of the Sakha Republic. The khomus functions much like a jaw harp, but with a strikingly expansive range and volume. Yuliyana's skill allows her to play across about three octaves. Winner of the Ethnic Sound category in the Discovery International Music Pop Festival in Varna, Bulgaria, Yuliyana has performed in Korea, France, Germany, Belgium, the United States, Japan, China, Thailand, Holland, Norway, Kazakhstan, Kyrgyzstan, Azerbaijan, Tatarstan, Bashkortostan, and Turkmenistan. Her music draws inspiration from the power of nature and the wisdom and traditions of the Yakut people to portray the timeless connection between humanity and the universe.
Nachyn Choreve is a soloist in the Tuvan State Philharmonic and founding member of the Tuvan psychedelic rock band Hartyga. Nachyn began touring as a professional musician when he was just 16, and as a member of Hartyga he has collaborated with musicians around the world.