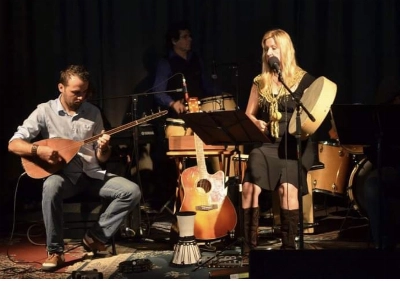 Saturday, Oct 22, 2022 @ 7:30 PM
| Type of Ticket | Day of Show Price | Advance Price |
| --- | --- | --- |
| Regular Ticket Price | $25 | $20 |
| Teen (12 - 15) | $22 | $17 |
| Children (11 and under) | $4 | $4 |
The Beer & Wine Garden will be open before and during this show! Come early to enjoy a local craft beer or glass of wine.
Kathi Huhtaluhta, is a vocalist/composer and musician of Finnish/Sami heritage. Described as a dynamic/ethereal voice capable of executing complex passages of music, and moving the heart. She has written, composed and performed music in other languages including, Andalusian, Finnish, and Anatolian. Huhtaluta incorporates her passion for the Sonoran Southwest in her music, as well as Native American, Sami (Lapland) and gypsy Spanish. She has her own unique style of "yoik" chant and plays guitar and drums. Kathi Huhtaluhta has produced a number of albums, including Ela Tanssia, Laula, which in Finnish means (To Live, to Dance, To Sing). Her "World Winds,"album demonstrates the diversity of music that Huhtaluhta is capable of and is a showcase of International talent. While working with U.N.C.E.F. and the United Nations Huhtaluhta collaborated with artists from around the world, forming the "World Winds," concept. She strives to bring harmony and peace through cultural exchange and by collaborating with artists from around the globe… Kathi Huhtaluhta has toured in Europe and has been a highlighted performer at the renown Kaustinin Music Festival in Finland. She has performed throughout the U.S. and Canada. In addition, Kathi Huhtaluhta helped to bring the distinguished FINNFEST USA to Tucson and promoted local groups and talents to share their music. One such group, Gertie and the T.O. Boyz of the Tohono O'odham Nation were invited to Minneapolis to do Wieila music with a Finnish Polka Band! Kathi Huhtaluhta has produced a number of "Remarkable" Music Videos on You Tube, which can be viewed at Google: Kathi Huhtaluhta-World Winds.
The ensemble World Winds consists of a renowned group of diverse and talented musicians that perform traditional and contemporary music based on the cultures of Native American, Finland, Lapland, Andalusia and Anatolia. The group consists of guest artists, Marvin Todacheenie/Native Flute and guitar, Marvin is a 4th generation Navajo, a carver of the flutes he plays. Kim Angelis of Naselle, an award winning, world traveler-Violin Virtuoso, Jan Halvax of Holland-percussion/drums, Mustafa Kilchak- of Diyarbakir, vocal/guitar, Huseyin Salim Sen- vocals, and Jeff Adams- clarinet. Welcome to an enchanted evening and a memorable cultural experience.

Guest artist, Kim Angelis, is a world class violin virtuoso and composer who has transcended artistic boundaries, blazing a melodic trail through the territories of world and classical music. From Alaska to Ancud (Chile) to Africa and Asia, Kim Angelis has enthralled international concert audiences. Her music was highlighted on NBC's world-wide coverage of the 2000 Olympics in Sydney.