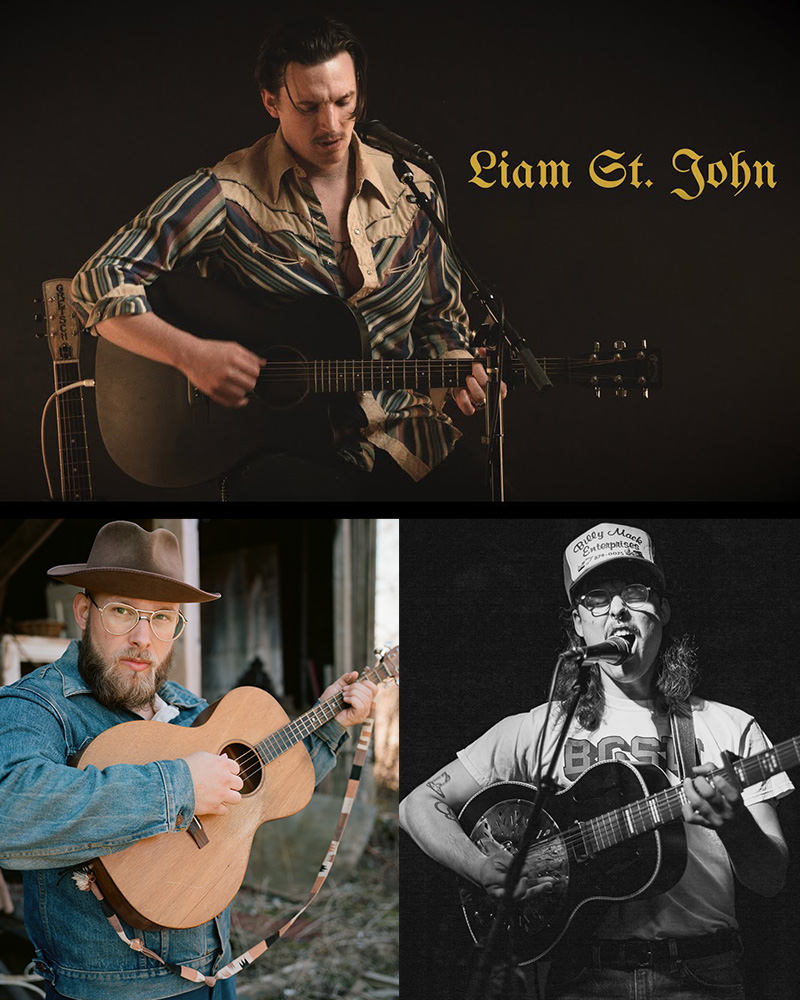 An Evening of Blues, Folk & Americana Music
Featuring Chart-Topping Blues Artist: Liam St. John w/ Opening Artists: Benjamin Dakota Rogers & Joshua Quimby
Friday, Mar 10, 2023 @ 7:30 PM
| Type of Ticket | Day of Show Price | Advance Price |
| --- | --- | --- |
| Regular Ticket Price | $25 | $20 |
| Teen (12 - 15) | $22 | $17 |
| Children (11 and under) | $7 | $7 |
Liam St. John's debut full-length project, "stripped back"(June 2022) reached #1 in Top Blues Albums globally on Apple Music, followed up by a successful nationwide tour that wrapped with a sold-out show in Music City, USA. The album's contents frequent the Spotify editorial playlists such as blues roots, acoustic blues, nu-blue, and POV: you sold your soul to the devil.
At the crossroads of the blues and rock & roll, Liam St. John commands his truest form by combining lyrics that embody the blues with their piercing and painful truth and delivering a captivating performance with vibrancy true to the spirit of rock and roll. Liam floods the room with electrifying energy, washing over every stage he graces.
St. John made his mark in Nashville after inking with King Pen Music by way of Warner Chappell at the end of 2022. This is the blues crooner's first publishing deal.

Benjamin Dakota Rogers wields one of those distinct, immediate, and truly wild voices. With a studied nod to old-time and bluegrass rhythms, his unvarnished sound effectively smashes the barrier between past and present. Hailing from his family's farm in Southwestern Ontario, Rogers grew up building greenhouses, growing vegetables, and living off the land.
Inspired by fellow troubadours Tyler Childers and Colter Wall, Benjamin has shared stages around the USA with the likes of Molly Tutle, Shovels & Rope, and The Milk Carton Kids. With a stream of new singles released over the past year, Rogers is riding a creative wave. "I just set up a studio in the barn" he says. "I'm excited to start laying down new tracks there. Sometimes we even get the odd coyote howl funneled into the recording."
Joshua Quimby - a twenty one year-old New England-born folksinger and songwriter, is paving his own, fresh path within Americana music. The now Nashville, TN-based artist combines his powerful voice, expressively raw lyricism, and folk/blues/country guitar picking to produce distinctly unique and genuine material.