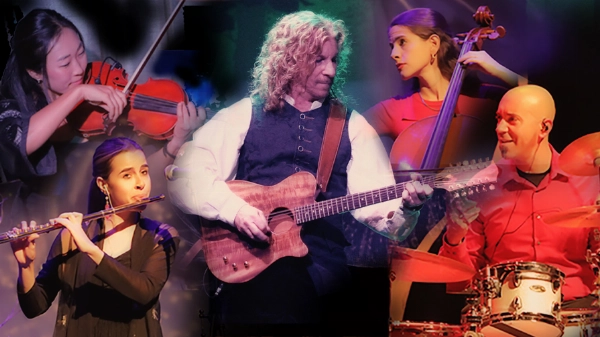 Saturday, Dec 16, 2023 @ 7:30 PM
| Type of Ticket | Day of Show Price | Advance Price |
| --- | --- | --- |
| VIP (see below in write up for description) | — | $45 |
| Regular Ticket Price | $35 | $30 |
| Teen (12 - 15) | $23 | $18 |
| Children (11 and under) | $7 | $7 |
Vip Tickets
---
Day of:N/A
---
Advance: $45
General Admission
---
Day of: $35
---
Advance: $30
Teen (12 - 15)
---
Day of: $23
---
Advance: $18
Children (11 & Under)
---
Day of: $7
---
Advance: $7
Five-Time Grammy® Nominee David Arkenstone returns with his enchanting holiday concert A Winter's Eve with David Arkenstone & Friends.
From his first Grammy® nomination in 1992 through his latest Grammy® nomination in 2022,
David Arkenstone's music has become the soundtrack to our lives with unforgettable NBC Sports themes such as The Kentucky Derby to epic gaming music for World of Warcraft, from Music Inspired by Middle Earth to area music as you stroll through Epcot at DisneyWorld. A Winter's Eve with David Arkenstone & Friends brings a lively candlelit concert of holiday music, blending neo-classical crossover, new age, Celtic, progressive rock, orchestral, and world music. David will debut music from his new release Winterlüde and perform songs from his beloved albums Christmas Spirit, Celtic Christmas, and Christmas Lounge. These holiday fan favorites will warm the heart, spark the holiday spirit, and take concertgoers on a wondrous musical sleigh ride from first note to last.
Recent quotes about David Arkenstone's concert tours include: "The most enchanting and magical music ever to be on our stage" by Yuma Historic Theatre in Yuma, Arizona; "David Arkenstone & Friends was one of the best shows of the year" by WOW Hall in Eugene, Oregon; and "David Arkenstone and his fantastic band absolutely wowed the TLCA audience last year with their amazing Christmas concert event" by Tri-Lakes Center for the Arts in Palmer Lake, CO.
VIP Ticket (lanyard w/tour laminate, preferred seating, custom compilation CD, photo for signing, post-show meet and greet)
Part of our venue's effort to bring quality, fun, and affordable events, concerts, and bands to 4th avenue in downtown Tucson, AZ.