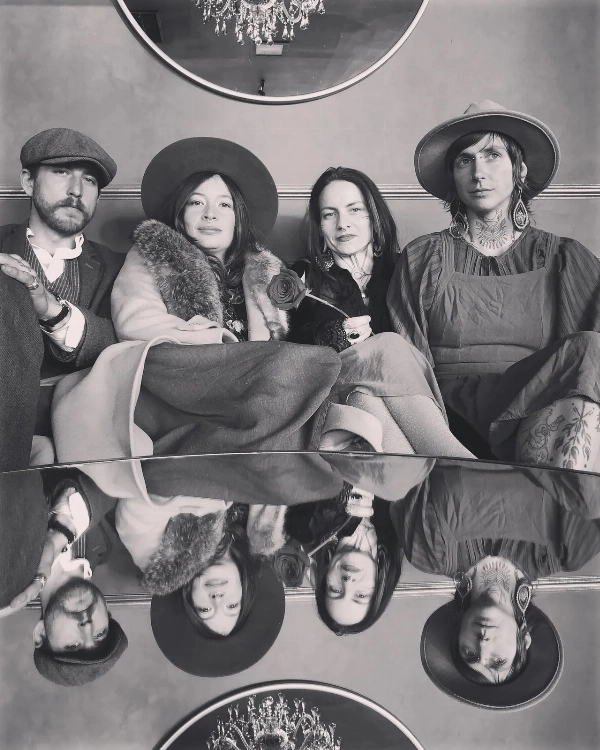 Saturday, Dec 09, 2023 @ 7:30 PM
| Type of Ticket | Day of Show Price | Advance Price |
| --- | --- | --- |
| VIP: Reserved seating first 3 rows | — | $30 |
| Regular Ticket Price | $25 | $20 |
| Teen (12 - 15) | $20 | $15 |
| Children (11 and under) | $7 | $7 |
Vip Tickets
---
Day of:N/A
---
Advance: $30
General Admission
---
Day of: $25
---
Advance: $20
Teen (12 - 15)
---
Day of: $20
---
Advance: $15
Children (11 & Under)
---
Day of: $7
---
Advance: $7
"The intimate sounds of the great 30s and 40s jazz era come to new life with Juniper Djinn. Combining the moods of such classic artists as Billie Holiday, Louis Armstrong, Django Reinhardt, Bessie Johnson, and Bo Carter spiced with melodious waltzes and folk songs from eastern Europe, Juniper Djinn creates an atmosphere that is at once comfortably familiar and audaciously new."
-Carolyn Marsh, former editor at Esquire and New York magazine

Clarinet dreamscapes amongst a sea of melodious waltzes and the billowing sounds of early American jazz, gypsy jazz, and European folk music make up the core sound of Juniper Djinn. The duos originals reflect a familiar feeling of nostalgia and timeless tunes. The duo is best known for their live performances in which they play an array of classic jazz standards, French musettes, swing, and early European folk music, and regularly feature other musicians. Singer, clarinet player, and guitarist Jessica Fleet leads the group with a voice that has been described as an angel and a demon singing in harmony with her powerful vocals, dynamic vocal range, and deep growl. Famed Baby Gramps quoted her as his "favorite singer" and compared her to the great Bessie Johnson. Multi-instrumentalist Bill Stoller completes the duo with his notable guitar playing, rhythmic accompaniment, and upright bass on their albums. The band has released two albums since 2020. One of all original material accompanied by a large band of musicians and their most recent album is a collection of sweet jazz lullabies and old standards recorded with a smaller assemble. With over a decade of experience playing in different bands and touring Juniper Djinn brings a transformative atmosphere of sound and musicians with each show. Lately the duo has been playing with multi-instrumentalist May Edington on tenor banjo, mandolin, and violin and the multi-talented Aurelia Anne Cohen on accordion. Aurelia is a huge part of Tucson's group Flam Chen(that hosts the all souls procession every year). A line up not to be missed.

Part of our venue's effort to bring quality, fun, and affordable events, concerts, and bands to 4th avenue in downtown Tucson, AZ.